In 2012, Beacon Athletics started a new project called Groundskeeper University, a revolutionary online training program designed to teach your ballfield grounds crew how to properly prepare your softball and baseball fields for game day.
People who have graduated from Groundskeeper U rave about the depth of groundkseeper education packed into this program.  For baseball coaches, head groundskeepers and athletic directors, it's reassuring to know that your summer staff, parents, volunteers and new grounds crew staff aren't going to do more damage than good trying to help with field preparation. Even experienced groundskeepers are bound to walk away with a few new tips.
Help us spread the word about Groundskeeper U!
Now through March 15th, we are offering Groundskeeper U absolutely 100% free! (Normally the course costs $59.) You'll get the full benefits of the paid program including certification and access to our private Facebook group.  Why would we do that? Because we want year-round coaches, supervisors and athletic directors to experience Groundskeeper U for themselves. Then when summer staff gets hired, your management team can be confident that GU is the right training avenue for your crew.
Tell me more about Groundskeeper U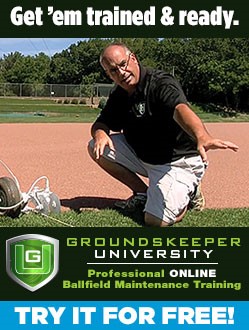 Groundskeeper U is authored and taught by Paul Zwaska, the former Head Groundskeeper for the Baltimore Orioles.  Paul brings over 30 years of Major League and Little League experience, combined with 12 years of teaching nationwide training seminars to make up the how-to courses we offer.  Our intuitive online training videos will show you and your team the tried and true tricks of the field maintenance trade.
Once registered, students have 30 days to complete the 8-module 100 level courses.  These courses are perfect for training new staff, inexperienced volunteers, or seasonal hires, so you don't have to take the time to do it yourself. Paul will train your staff the right way, using in-depth video, pictures, and text to teach every individual at their own pace. Completion of the course and final exam will give students a certificate verifying completion of Groundskeeper U, as well as access to special promotions and discounts through our private Facebook group.
Typically, Groundskeeper U costs $59 for one user to go through the course. But right now, for a limited time only, we are offering Groundskeeper U FOR FREE to all staff supervisors, baseball coaches, field managers, league officials, head groundskeepers, or any others involved in field maintenance. The eight introductory level courses are all that's needed to get you and your staff game day ready, the right way.
But hey, don't just take our word for it; take advantage of this limited time offer and try out Groundskeeper U for yourself today!