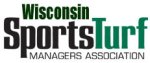 The Wisconsin Sport Turf Managers Association Winter Conference was held Wednesday, February 11th, at Fox Cities Stadium in Appleton, Wisconsin. Fox Cities Stadium is home to the Wisconsin Timber Rattlers, the Class A affiliate to the Milwaukee Brewers. Here are some of the highlights from a truly great event!
Then just yesterday, the Beacon team attended Illinois Sports Turf Managers show at Minooka High School in Minooka, IL.
Hitting the SweetSpot
Once again, at both shows we demonstrated the new SweetSpot Tamp during the trade show break and once again, it was a huge hit! We spoke with other vendors and customers including Michael Boettcher, Head Groundskeeper for the Milwaukee Brewers, Timber Rattlers Head Groundskeeper Jake Hannes, and H&K Sports Fields owner Mike Parent. We also met many coaches, high school and college, from all over Wisconsin and let them try out the tamp for themselves. We're still taking feedback about plate sizes you want. If you have an opinion, please shoot us an email to info @ beaconathletics.com
News from WI Sports Turf Show
Jared Minnick of Growing Innovations gave a great turf lecture. The talk focused on seed selection, establishment, and maintenance challenges. Jared also stressed the importance of trying new ideas and not letting the idea of "impossible" hold you back from trying to accomplish something new on your field because it's never been done.
After a delicious lunch, there was a panel discussion on "Field Renovation and New Construction" led by sports field contractors and turf managers, Josh Viet, Ron Novinska, Mike Parent, and Jared Minnick. The knowledgeable panel answered questions and discussed details to consider when in the planning stages of a new Sports Field project. This talk was definitely one of the most informative of the conference and extremely useful to anyone planning a project including coaches, groundskeepers, athletic directors, and architects.
News from the IL Sports Turf Show
The Illinois show had great attendance and was another day filled with interesting lectures and great food!  One of the many highlights from the day besides the roast beef came from Brad Park of Rutgers University. He discussed solutions and management for high traffic areas on your sports fields. He also offered great examples of different tactics for managing multiple fields to their full potential. One  example in particular that stands out was how to schedule the playing season to maximize the health and recovery time for your playing surface. His examples were very practical in the sense that they won't break your budget.
The show concluded with a talk from Brewers Field Manager Michael Boettcher and assistant Steve Ems. They discussed the 2014 season and took us through the process of transforming their baseball field to a soccer field for one game and then back to baseball again. It was interesting to hear the challenges they encountered as well as how they dealt with them with no time to spare. If you have not joined or are thinking of joining your local STMA chapter I highly recommend it. It's a great way to connect with professionals in our industry as well as learn from them and in turn offer your own knowledge.