The 27th annual STMA show (#STMA2016) is underway! As a former groundskeeper and current Beacon Athletics employee, this is by far my favorite conference and exhibition to attend! The overall positivity and excitement of this show is immediately felt from the minute you enter your hotel.
I think what makes this show so special is that the men and women in the groundskeeping / sports turf industry generally enjoy their jobs and take great pride in their work. Most shows I have attended do not come close to the energy that the STMA conference has. My favorite part of the show is getting to visit and socialize with people we don't have the opportunity to see anymore. For me, this is my one time a year to revisit with the people I used to work with in Arizona. Moving around all over the country for new opportunities is the norm in our industry and it can make life stressful and expensive. However, it also gives us the opportunity to experience new landscapes and meet new people that will become friends for life, and I think this is where the STMA energy radiates from. Not only do you get to catch up with old friends but it's also the most amazing opportunity to network that I have ever experienced!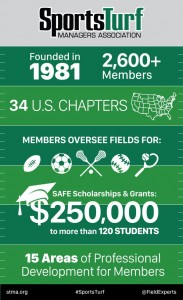 10 Tips for STMA Conference Attendees
If you have never experienced an STMA conference and are planning on attending this year, I can almost guarantee you won't regret it. The most difficult part of the conference is actually trying to determine which events, classes, speakers, and seminars you want to attend, as there are so many good ones to choose from. It's important to take advantage of as much as you can but you also don't want spread yourself too thin. I've put together a few pointers below to help plan your rookie season. See you in San Diego!
Track down an STMA conference program and highlight the events that will be most beneficial to you and your organization.
If you are attending with coworkers, don't be afraid to split up and pursue what interests you.
Introduce yourself to mentors and possible connections. If you meet someone whose field or work you really admire, share that admiration with them. If a former co-worker is now working with another team or complex, introduce yourself to their current coworkers and ask how your mutual connection is doing.
If you're a student, make sure to check out the job board. Seek out the people that are doing the hiring and introduce yourself in person.
Attend morning classes and bring back information and new ideas to your bosses. It's always good to remind them why this show is so important for a constantly evolving industry. Any ideas you can bring back to the job will help reinforce the importance of sending you to this show.
Gather as much literature on new groundskeeper products you can and determine what might bring the most value to your field and budget.
Talk to the sales reps in the trade show. Many reps are willing to offer you show deals and with a business card and a handshake, you can usually strike yourself some good discounts that wouldn't be available over the phone or online.
Check out the host city beyond the show. I always try and plan at least one evening and half a day to explore the city I'm in. San Diego is one of my favorite cities in the entire country. Plan a few hours to check out a neighborhood like Ocean Beach or Pacific Beach, and take in some surfing or eat at a local restaurant.
Enjoy yourself and travel safely!
And…last but not least, if you're coming from a cold state like Wisconsin, don't rub it in TOO hard to the co-workers that you're spending a week in sunshine.
Brent