Determining how much field paint your organization needs can be a daunting task – especially, when there are not documented records of paint usage from past seasons. For this reason, we have listed a few pros and cons to help determine if you should be using aerosol paint or bulk paint sprayers for your athletic field.
Bulk Paint

Aerosol Paint

PROS

Lower cost and unlimited color choice
Formulated specifically for turf applications
Pressurized tanks use zero propellants eliminating the risk of turf damage
Efficient way to paint large areas such as football fields, soccer fields, and logos
Brighter lines after one pass

Very simple to use
Easy portability of paint and sprayer
No mixing or cleaning needed
Straightforward changeover from color to color

CONS

Not ideal for weekend volunteers
Through cleaning after every use and color is vital
Not as easily transported from field to field
Need to have water available for both mixing paint and cleaning
Uses gasoline or must have a charged battery before use

Over time, aerosol can be more expensive than bulk paint
Time consuming when painting large areas and multiple fields
Some aerosol paints use propellants that are harmful to the turf and environment.
Limited choice of colors.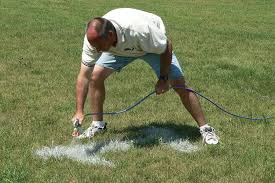 How Much Paint Do I Need?
Use the calculations below to determine how much paint you will use throughout the course of a season. Make sure to remember that moisture and mowing will decrease the visibility of your lines after time. Most bulk paint is generally diluted with water, for example, 5 gallons of bulk paint at a 1:3 ratio is actually going to produce 20 gallons of paint.
A typical 18-20oz can of aerosol paint will produce around 200-250 linear feet depending on how fast you walk, how wide your line is, and how many passes you make. Therefore, if you purchased a case of 12 aerosol paint cans at $65 a case you would be achieving 200-250 linear feet of coverage for $5.75 a can.
For bulk paint, you will achieve approximately 300 linear feet per diluted gallon of field marking paint. Therefore, if you purchased a 5-gallon pail of paint at $60 that is diluted at (3:1) you would produce 20 gallons of paint. This would give you 300 linear feet for the price of $3.00 a gallon.
You can determine how many linear feet you will need to line by looking up your league's field dimensions online. There are many variations of field dimensions based on age groups and league rules so I would recommend figuring out the area you will need to cover and how often painting is necessary. If you have any further questions, just give us a call and we will be happy to help determine what is best for your situation.