For many years — going back more than a decade — Beacon made a conscious decision to have the covers of our annual catalog to be more artistic about the game of baseball/softball and the profession of groundskeeping than a sales driven cover. It is an image we are very proud of and hold true to.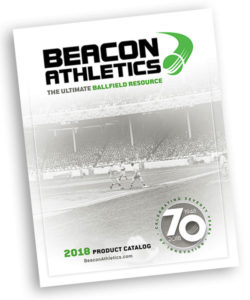 Our 2018 Beacon Athletics catalog cover is no different. This year's cover harkens back to the game as it was, more than a century ago. The photo featured on our cover is from the 1912 World Series. Game Four to be exact. The stadium pictured is one most of you have never seen but many may have heard of. It is the Polo Grounds in New York City. Built in 1890, this cavernous ballpark was the home to the New York Giants for 69 years.
Game Four was a scheduled 2pm game (as lights had not made their way into ballparks yet) on Friday, October 11. A crowd of 36,502 was on hand to watch this game between the Giants and the Boston Red Sox. Game 4 also reportedly holds the distinction of drawing the one millionth World Series fan for MLB. The photo on our cover shows the result of an infield grounder hit back to the pitcher by Boston's Steve Yerkes. Giants pitcher Jeff Tesreau chose to throw to third to force out the lead runner, Red Sox pitcher "Smoky" Joe Wood (in the grey sweater). Wood was called out. The play continued with Giants third baseman Buck Herzog then quickly throwing over to first in an ill-fated attempt to try to retire the speedy Yerkes, whom you can see on the left side of the picture sprinting to first base.
The 1912 World Series has been referred to as one of the 10 most exciting World Series in history. It is packed with a lot of very interesting side notes, including: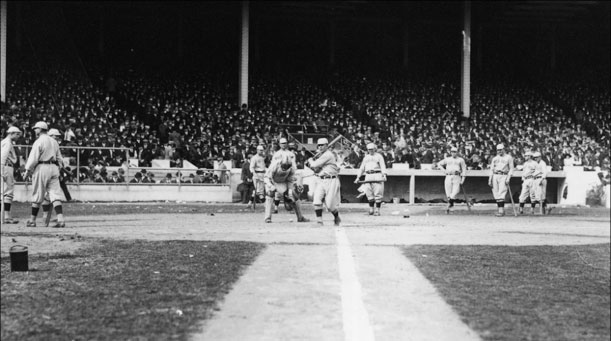 The 1912 series is one of four in history to go more than seven games, even though this one was a best-of-seven series. Game 2 of this series ended in a tie due to darkness and had to be played over in it's entirety as game #8 due to the way the rules were written back then. The other three World Series that went more than seven games were in 1903, 1919, and 1921. Those 3 series were all best-of-nine World Series match-ups, but none of those three went longer than 8 games.
This series featured incredible pitching by Christy Mathewson of the Giants and "Smoky" Joe Woods of the Red Sox (pictured). All but one game in this series had a close score with half of the games being decided by 1 run. Woods, in the regular season, won 34 out of 39 games and pitched 10 shutouts. He started three of the games in this series for the Red Sox and pitched in relief in the final game. He finished the series with a 3 and 1 record. Mathewson had a 23 win season in 1912 and started three games in the series one of which was the tie game that ended up not counting. His other two starts in the series went down as losses, mainly due to lack of run support by his teammates. He finished the series with a 1.26 ERA.
Game 7 of the 1912 series was played at the brand new Fenway Park. This game had two "bounce" home runs involved in it, one by the Giants and one by the Red Sox. A "bounce" home run is when a fly ball would hit in fair territory and then bounce over the home run fence and therefore called a home run back in 1912. That rule would change in 1930 to be called a "ground-rule double".
Game Eight, the make-up game for the Game 2 tie due to darkness, was also played at Fenway Park. The location was decided by a coin flip and because of the last minute decision, the final game of the series was only witnessed by a half-full seating bowl with attendance reported to be only 17,034.
The Giants broke a tie in the top of the 10th to take the lead in the final game but a couple of gaffs by the Giants in the bottom of the 10th cost them the World Series and the Red Sox emerged the victors. Giants left fielder Fred Snodgrass (pictured) had dropped a fly ball in the bottom of the 10th which started the unraveling for the Giants. It would go down in history as the "$30,000 muff" referring to the difference in the winning and losing shares for the 1912 World series, which was $29,514.34
There are several more great side stories about this series. To read more about the 1912 World Series and The Polo Grounds, checkout these links: