Check out a favorite of ballfield professionals…
It's time to prep the field. Your crew is ready to go to work, but they are waiting on you to provide the information to proceed.
How far should they trim the back infield arc?
How many bricks will it take to fortify the front slope of the mound?
How deep and how wide should you excavate to install the new warning track?
What is the proper slope for your mound?
Sooo many questions.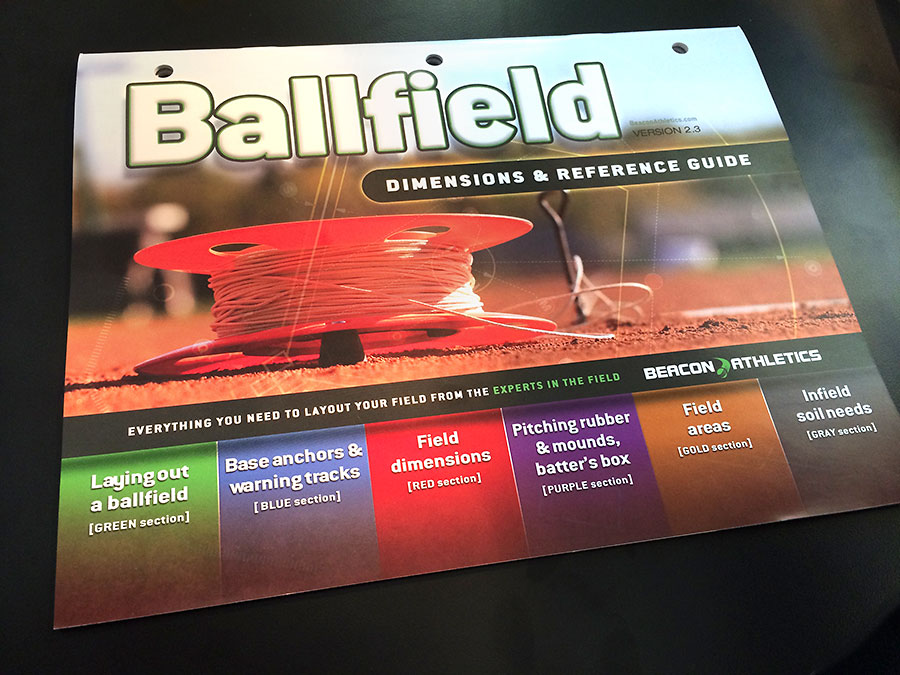 After hearing these questions and many more over the years, we decided to write a 32-page guidebook, the Ballfield Dimensions & Reference Guide. It includes a comprehensive collection of information for ballfield professionals. Examples of the information in the guide include:

Space needs for ballfields
Laying out your ballfield
Proper foul line alignment
How to set base anchors
How to build a warning track
Baseball & softball field dimensions for various leagues and all levels
Pitching mound & pitching rubber installation
Batter's box construction details
Infield area calculations
Infield soil and topdressing information
If interest in this guide every year at the Sports Turf Manager's Association (STMA) annual conference is any indication, the Ballfield Dimensions & Reference Guide has become a favorite of ballfield professionals.
We also make this information available on our resources website as well at ballfields.com/baseball-field-dimensions. Or, you can purchase your own copy of the guide in the Beacon webstore: Print Copy of the Ballfield Dimensions & Reference Guide
And if you need even more information, you can find even more tips and information in our various blog posts and at Beacon's Groundskeeper University. In just a few minutes on any of our websites, you will quickly understand why Beacon is the one-stop-resource for ballfield supplies, information and training — "The Ultimate Ballfield Resource".