► It all started in 2007…
Our newest updated & expanded edition of the venerable Ballfield Dimensions & Reference Guide is about to debut on Wednesday, January 15, 2020 at the national Sports Turf Managers Association Conference in West Palm Beach, Florida. The latest edition includes 16 all-new pages in an expanded 48-page full-color guide.
The ballfield guide has come a long way from its humble beginnings back in 2007 when I authored the first edition. The original booklet was wrapped with a plain, orange paper cover with a simple title. The inside pages looked as though they had been photocopied. That guide lasted a little more than a year before we embarked on our first update — one that would take us to a full color book.
In the ensuing years, the guide rapidly became a much sought-after reference for those who maintain ballfields. We heard frequently from our customers who would tell us they equipped each of their crews — or their work trucks — with one of our ballfield layout guides. It was truly a one-stop-shop for key information like field dimensions, mound schematics, instructions for laying out a field, and more. See if this picture of our original guide takes you down memory lane:
---
► It just keeps getting better.
The guide has undergone four important updates since the original. Each update has been inspired by updated data and included new information. But no update has been as thorough and expansive the new 2020 Version 3.0 — our 6th edition. We embarked on a total facelift while adding a whopping sixteen new pages of info, including:
Finish grading and surface grade
Fan safety
Backstops
Dugouts
Batting cages
Windscreen
Expanded infield soils and topdressing sections
Expanded warning track construction recommendations
---
► Get a free copy at STMA. Not going? Keep reading…
If you will be at STMA, it's easy to get a free copy. Just stop by BOOTH 421.
Not going to STMA? Here's how you can get a free copy sent you. Post a selfie of you and any version of our dimension guide on Twitter with a quick mention what you love about The Ballfield Dimension Guide and include the hashtags #STMA2020 and #BeaconAthletics in your tweet. Then, just email me (paulz@beaconathletics.com) with your name and mailing address along with a link to your tweet. When we confirm your tweet and your mailing address, we'll mail you a copy the brand new 2020 version.
Do you have all 5 previous versions shown below? If you do, we're impressed. You may be even more into this stuff that we are. Take a selfie with all of the guides in front of you and email it to paulz@beaconathletics.com with comments about how you have used the guide and what you have liked most about it over the years. For everyone who has all five prior editions and sends us their photo and comments, we'll enter you into an exclusive drawing for a $500 coupon at the Beacon Store and a FREE copy of the new 2020 Guide.
Don't wait! Really. We're going to conduct the drawing and find our All-Five Winner on Monday, January 20.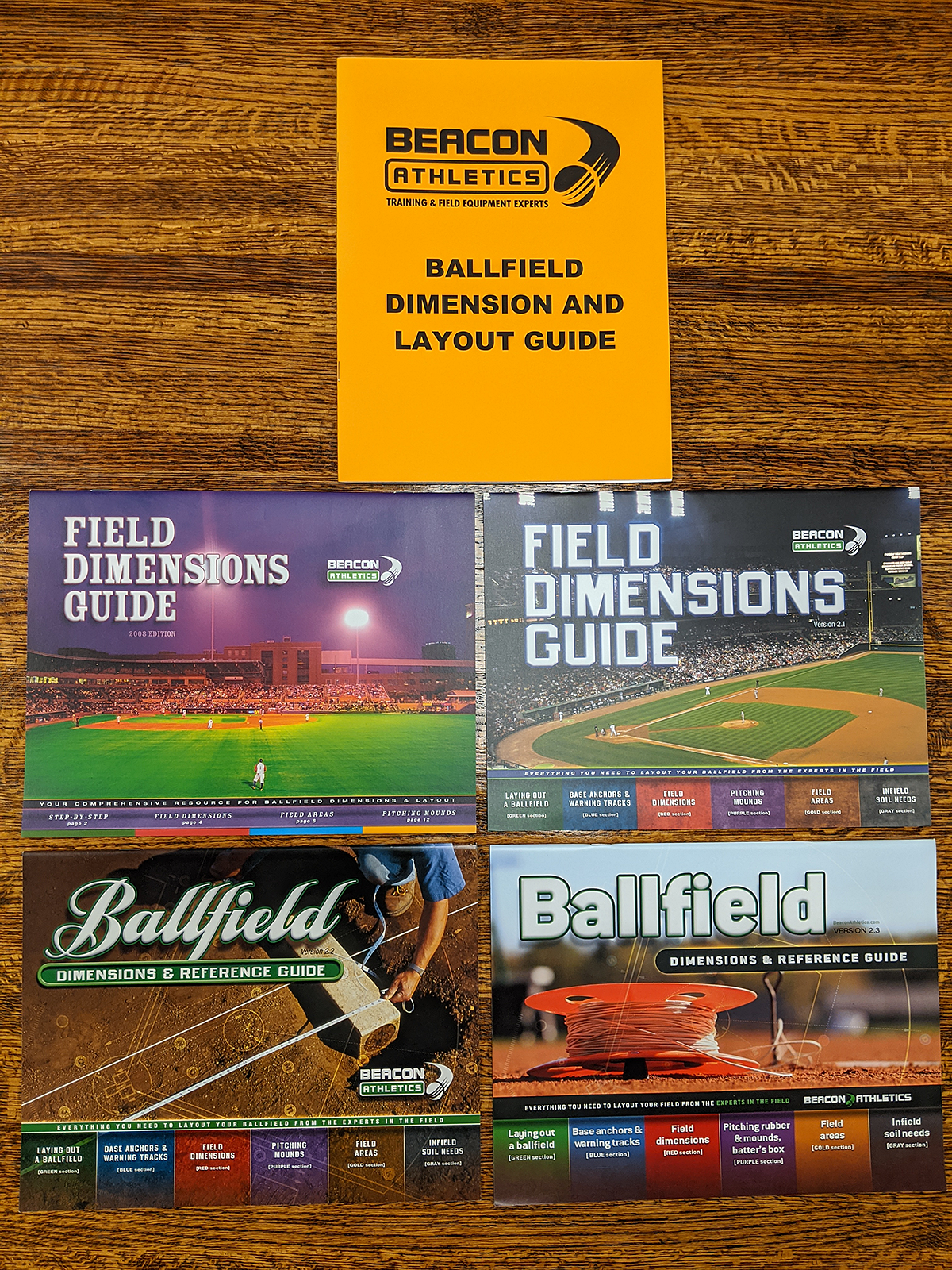 ---
► Or, buy it now.
Of course, you can also just buy the guide right now at our online store. We're super proud of this newest edition and we'd love to know what you think, so shoot me a note. Enjoy!