Giving you the best selection of protective screens is important to us. That's why we asked hundreds of baseball and softball coaches, athletic directors and players, from high-school to top college levels to give us their input. From there, we put on our engineering hats to make our infield screens stronger and better.
Introducing the Tough, Yet Slim 7'x5′
New to our L-screen lineup includes the slimmer 7′ x 5′ which gives you excellent protection while conducting better fielding practice with fewer balls hitting the screen. It's also easier to use inside and with batting cages making this screen a popular choice.
All Beacon Screens Are Built to Last
There's nothing great about a protective screen that has broken welds and tears in the netting. All of our new L-screens have been updated to bring superior construction and quality materials featuring our sturdy, rust-free Gatorshield frames and touch UV-treated pillowcase nets. This means your screens will last.
What else is improved?
Better L-screen mobility with stronger low profile wheels
Wheels are now standard on all 2020 L screens making them easier to move.
The lower profile wheel keeps the screen closer to the ground, improving stability. And, these wheels are tough enough to withstand those rocket shots.
Have an older Beacon screen and need wheels – Get our low profile wheels
"No Tip" stability
In addition to the low-wheel profile, all TUFFscreen frames now feature a post for stacking Beacon Field Weights  to help prevent tip-over in high winds. Our 8 lb field weights are easy to carry (right on the posts) and are multi-purpose. No more sandbags! That's reason enough.
Netting add-ons
Our Small Ball Net add-on attaches to any L-Screen for added small ball training. The tighter weave pattern will prevent smaller-sized balls from passing through.
What Net Suits You?
Shop Beacon Protective Screens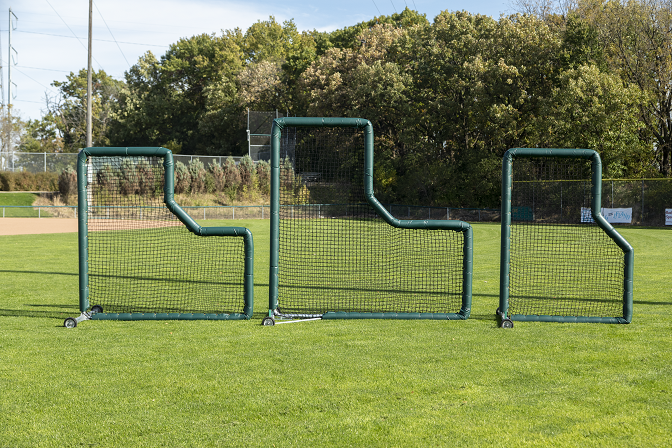 L-screens, 7'x 5′, 7′ x 7′ or 8′ x 8′
8′ x 8′ Infield screen
7′ x 7′ Infield screen
7′ x 10′ Shagger Screen