It's everything you need to lay out your ballfield like a pro.
Welcome to Beacon's online Ballfield Dimensions and Reference Guide. This is the definitive resource for ballfield dimensions, construction and renovation. It is a must-have for sports field managers, ground crew members, architects, field builders, athletic directors, sports turf management students, league volunteers, and board members.
There are two significant updates with this edition, Version 3.0. First, we have expanded our guide to include some of the amenities that go with a ballfield. Information about spectator safety, backstops, dugouts, batting cages, and windscreen is included here for the first time. The second update is the additional expertise from a broader range of contributing expert writers that expands the knowledge base for this guide. We turned to our trusted partners and industry leaders at DuraEdge and 4Most Sports Group to lend their unique expertise to the Guide.
We're confident that referencing this guide will become one of the most valuable tools you have. If you have any questions, please don't hesitate to contact the experts at Beacon Athletics.
Be sure to consider the handy 48-page printed version (BUY NOW) of the Guide.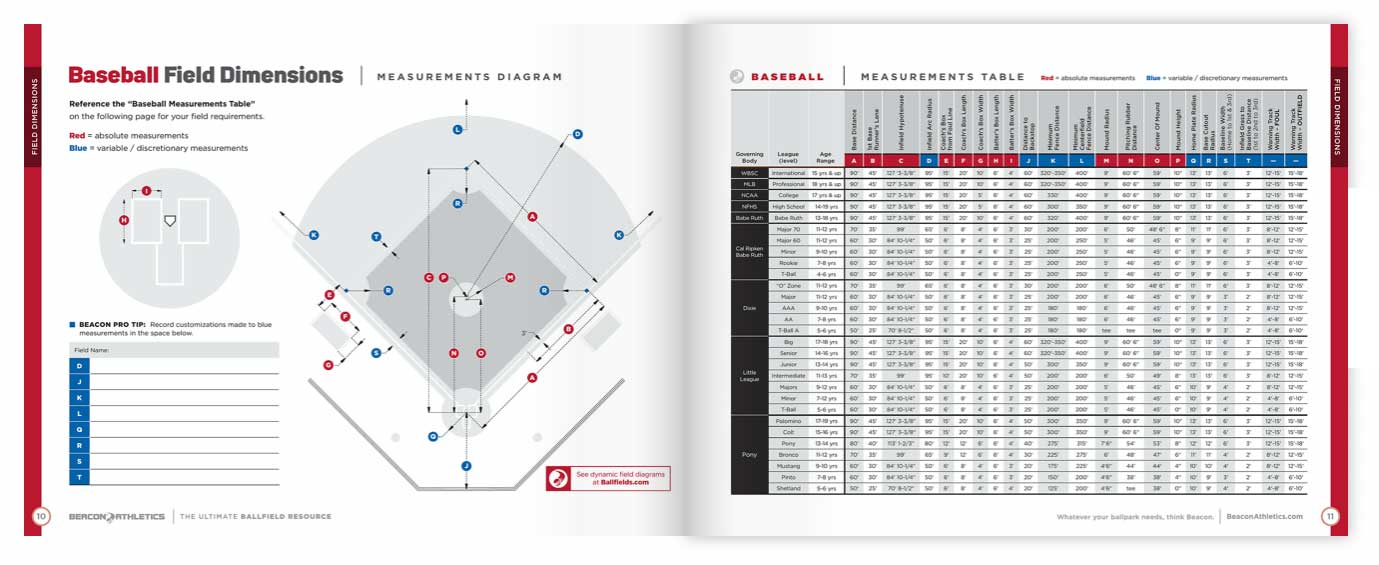 You can also try the online flip-book version of the Ballfield Guide…
---
THE ONLINE BALLFIELD DIMENSIONS & REFERENCE GUIDE
---
► Ballfield Layout
► Ballfield Dimensions
► Field Amenities
► Infield Soils
► On-Field How-Tos
► Mounds & Batter's Boxes
► Warning Tracks