Field Dimensions Guide
Building the Warning Track
A. Getting the right width for the warning track.
General rule: The track should be wide enough to give players a 3-step warning (at a full-speed run) that they are approaching a barrier. Their first step onto the track alerts them with a different texture under their feet. Their second and third steps allow players to decelerate before making contact with the barrier. With that in mind, the width of the warning track is determined by the oldest age group using the field.
Warning Track Width
Oldest AGE GROUP Using Field
WIDTH of Warning Track
10 & under
8′ – 10′
11 – 12
10′ – 12′
13 – 16
12′ – 15′
17 & older
15′ – 18′
B. Tips for building the warning track.
Depth of material: Minimum of 3″. Shallower depths could result in weed problems on the warning track.
Type of material: Usually a ground aggregate of some kind. The largest grade of stone should be no bigger than about 3/16″ mixed with a variety of finer particles to assist in binding the material. Uniformly graded materials will resist compaction, which can increase the safety risk to players.
Drainage: Rely upon a positive surface grade (0.5% – 1.5%) across the track for more rapid drainage.
Surface drains: May be needed at certain points along the track to remove excess surface water.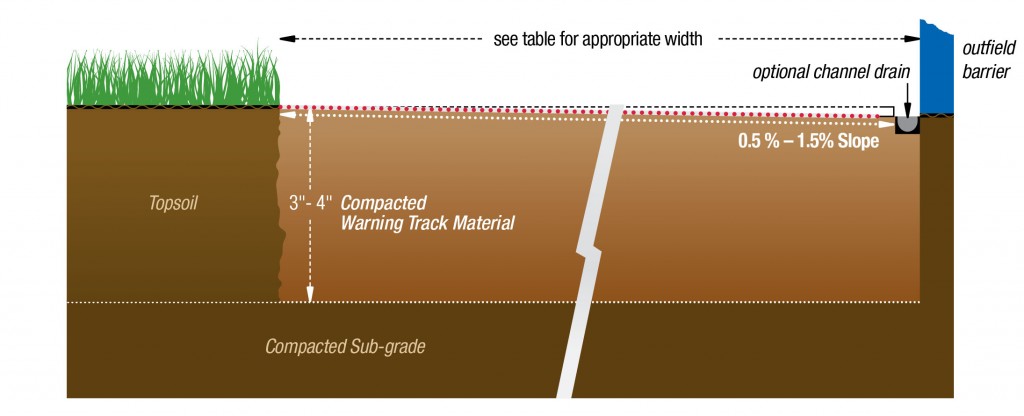 Coverage Table for 1 cubic yard of Material
Depth
Area Covered (non-compacted)
Area Covered (compacted)
1″
324 sq. ft.
267 sq. ft
2″
161 sq. ft.
133 sq. ft
3″
108 sq. ft.
91 sq. ft
4″
81 sq. ft.
68 sq. ft
Formula for Calculating Warning Track Material
LENGTH of Track (ft) × WIDTH pf Track (ft) × DEPTH of Material
27 cubic feet per cubic yard needed
= Cu. Yds. of WT Material*
* Multiply the result of this formula by 1.2 to account for 20% compaction on material
Estimated Volume of Warning Track Crushed Aggregate Material Needed
Quantities are shown in cubic yards for a 3″ depth with 20% compaction factored into computation
1 cu. yd. of Magic Track Warning Track material = 1.4 tons
Width of Track
Length of Warning Track
50′
100′
150′
200′
250′
300′
350′
400′
450′
500′
550′
600′
650′
700′
750′
800′
8′
4.4
8.9
13.3
17.8
22.2
26.7
31.1
35.6
40.0
44.4
48.9
53.3
57.8
62.2
66.7
71.1
10′
5.6
11.1
16.7
22.2
27.8
33.3
38.9
44.4
50.0
55.6
61.1
66.7
72.2
77.8
83.3
88.9
12′
6.7
13.3
20.0
26.7
33.3
40.0
46.7
53.3
60.0
66.7
73.3
80.0
86.7
93.3
100.0
106.7
14′
7.8
15.6
23.3
31.1
38.9
46.7
54.4
62.2
70.0
77.8
85.6
93.3
101.1
108.9
116.7
124.4
16′
8.9
17.8
26.7
35.6
44.4
53.3
62.2
71.1
80.0
88.9
97.8
106.7
115.6
124.4
133.3
142.2
18′
10.0
20.0
30.0
40.0
50.0
60.0
70.0
80.0
90.0
100.0
110.0
120.0
130.0
140.0
150.0
160.0