Whether it's before the season, midseason, even after the season, it's always a good time to take care of an important task — net inspection. Making sure your infield screens are in safe working condition is something you can do even if the weather doesn't cooperate. It's work that can easily be brought indoors.
► Inspecting Nets and Infield Screens
I have always taken the time to get all of my screens and nets ready to go as early as possible so I can concentrate solely on the fields. No matter when you have time to do it, each infield screen should be inspected for:
Holes in the net
Net material fatigue
Condition of string that is anchoring net to frame if not using sock nets
Condition of the frame and transport wheels (where applicable)
Condition of any protective padding on screens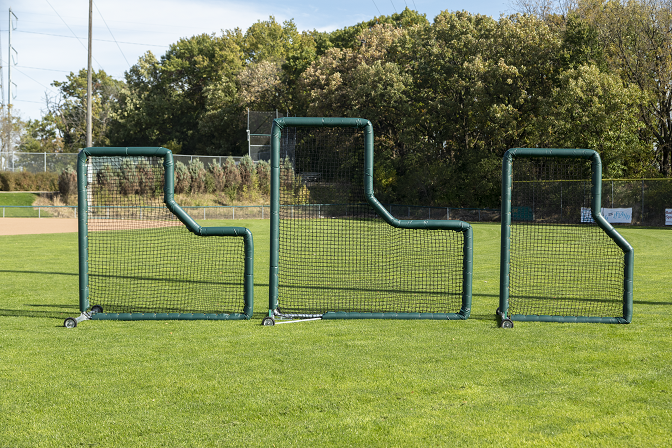 Repairs are made when reasonable to do so. Your first priority is to ensure safety isn't compromised for the coaches and players who will rely on these infield screens and nets for protection. Pitching screens, or "L-Screens", tend to get the worst abuse and usually require the most work. Don't forget about the big on-field portable backstop. If it is collapsible, open it up and inspect all locations where the net and the backstop pad are anchored to the frame, especially along the bottom of the backstop frame where it typically comes in contact with the ground. Abrasion can speed the wear causing the net and pad to become loose or unattached on the bottom of that frame.
► Remember the batting cage nets!
Don't forget to check the health of your batting cage nets. For indoor batting cages, check to make sure all connections are tight and that the net is not sagging. If these are for outdoor batting cages, stretch the net out somewhere to check for holes in them. Mice and rabbits love to chew through the string near the base of the nets for nesting materials during the off season. They can be easily repaired on the ground BEFORE you hoist these nets back up into position. Do a full inspection of all hardware and cable on outdoor batting tunnel net systems as rust and oxidation can work to seize things up if stainless steel or galvanized hardware was not used.
► Take a look at your net backstops
At least once a year — and definitely after every storm — you should make sure your barrier netting and backstop netting is still protecting your fans. We have decades of experience in backstop and barrier netting and offer versatile engineered netting backstop solutions. With foul ball injuries making headlines everywhere, including MLB ballparks, fan safety has never been more timely. Learn more about what you can do about fan safety.
► Give yourself plenty of time
Remember, nets that can't be repaired need to be replaced. Don't wait to order your nets and screen replacements. You don't want to be putting your players and coaches at risk. It's best to start your net assessment and reordering process as early as possible. If your budget allows, slowly build a backup supply of nets for each of your screens. This is the best way to prepare for unexpected damage and make sure you always have a safe environment.